Parent Questionaire results
ROE GREEN INFANT SCHOOL - Welfare Questionnaire Analysis November 2017
Total 183
| | | | | |
| --- | --- | --- | --- | --- |
| | | Agree | Disagree | Don't Know |
| | | | | |
| 1. | My child is happy to come to school. | 96.18% | 2.73% | 1.09% |
| 2. | My child has friends to play with. | 96.15% | 1.65% | 2.20% |
| 3. | My child is good at taking responsibility for his/her belongings. | 90.16% | 4.92% | 4.92% |
| 4. | My child has good eating habits at school. | 82.51% | 9.84% | 7.65% |
| 5. | My child enjoys looking at/reading books/listening to stories. | 95.63% | 1.64% | 2.73% |
| 6. | My child enjoys learning. | 97.27% | 1.09% | 1.64% |
| 7. | My child feels safe at school. | 96.17% | 0% | 3.83% |
| 8. | My child understands how to resolve any playground issues. | 63.74% | 5.49% | 30.77% |
| 9. | My child knows that should they have a problem,there is someone they can go to in school,who will listen to them. | 79.12% | 2.75% | 18.13% |
| 10. | Children behave well at our School. | 92.90% | 1.64% | 5.46% |
What kind of things does your child enjoy doing at home?
Enjoys bollywood dancing and reading.
Playing with toys like trains, planes and blocks.
Reading, writing, drawing and playing with lego.
Nursery rhymes on Ipad and playing with dolls.
Playing with cousins and playing on the computer.
Lego, reading, writing and playing
He likes colouring, writing and enjoys listening to stories.
Parent comments:
Best school and very helpful teachers, keep up the good work.
I am happy my child is safe and well, gets learning support from the class
I am happy with everything his doing and learning at school
Both of my children have come along way in their learning
The children playground is sometimes very messy with crisp packets and wrappers
Happy overall except for eating lunch which I have discussed with the teacher and hopefully my daughter will cooperate
ROE GREEN INFANT SCHOOL - Analysis of Parent/Carer Survey Questionnaire February 2016
Total:195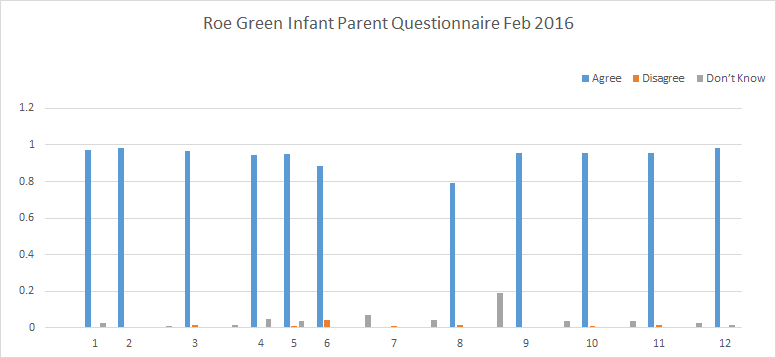 Parent comments -
The good features of the school are:
Teachers are helpful and kind, staff is very friendly, good teaching methods, there is always someone there to help you, staff are great with children and parents, school doors are always open for discussion and suggestion and suggestions are taken as a positive change.
The improvements I would like to see in the school are:
Less homework, more information about children's progress, more sports activties after school, homework club , learning a different language.
Roe Green Strathcona School - Parent Questionnaire Analyses February 2016 Numbers
Total : 89
| | | | | | | |
| --- | --- | --- | --- | --- | --- | --- |
| No | Question | Agree % | Disagree % | Don't Know % | No Answer % | Total % |
| 1 | My child is happy at this school. | 98% | 0% | 1% | 1% | 100% |
| 2 | My child feels safe at this school. | 96% | 1% | 2% | 1% | 100% |
| 3 | My child makes good progress at this school. | 99% | 0% | 1% | 0% | 100% |
| 4 | My child is well looked after at this school. | 97% | 0% | 3% | 0% | 100% |
| 5 | My child is taught well at this school. | 97% | 0% | 2% | 1% | 100% |
| 6 | My child receives appropriate homework for their age. | 94% | 5% | 1% | 0% | 100% |
| 7 | This school makes sure its pupils are well behaved. | 96% | 0% | 3% | 1% | 100% |
| 8 | This school deals effectively with bullying. | 86% | 3% | 10% | 1% | 100% |
| 9 | This school is well led and managed. | 93% | 0% | 5% | 2% | 100% |
| 10 | This school responds well to any concerns I raise. | 88% | 0% | 11% | 1% | 100% |
| 11 | I receive valuable information from the school about my child's progress. | 92% | 1% | 7% | 0% | 100% |
| 12 | I would recommend this school to another parent. | 96% | 0% | 2% | 2% | 100% |

Please click below for our February 2015 Parent Questionnaire Surveys for
Roe Green Infant School